Dingus Khan – Live Show Review at the Bull & Gate – Kentish Town, London
Not long after Dingus Khan finished playing the Bull & Gate in North London one Autumn Friday night, a sweat-soaked young man could be seen stumbling from the band room into the bar, shaking his head and smiling as he let out an exhausted gasp of "F**kin' Dingus Khan hey…". As if he had been forced to rock out all night.
And such was the case.
Not long ago I went to see the Wave Patterns with a friend at the Bull & Gate. The Wave Patterns were forced to cancel at short notice when one of their number fell sick, so for the first time in a long time I found myself at a gig where I knew absolutely nothing about anyone on the lineup.
Luckily some boys hailing from East Anglia were coming to the rescue. Replacing the Wave Patterns at the top of the bill were a band called Dingus Khan, and goodness – isn't it nice when a band gets their name just right? Dingus Khan is exactly what you'd imagine a band with a name like Dingus Khan to be: a lad's band. Seven guys all seemingly in their early twenties absolutely freaking out. There was one guy whose chief role – although he could be seen to be playing some kind of guitar or ukulele or something sometimes – his chief role on stage was to skank around as hard as possible and pour beer in the mouths/on the heads of the rest of the band. There was a guy at the back with your standard drumkit – shirtless and heroin-chic – and then another guy with just a snare drum and high-hat, so that you had extra drums. Holy crap –it's extra drums!
So yeah, these guys were loud. Two drum kits as well as multiple guitarists and bassists (their facebook page claims three bassists, so that seems about right) who divided their time equally between horseplay (bashing the frets of their guitars together, screaming into their pickups, playing their instruments whilst holding them behind their heads, etc.) and actually playing some kind of song. This rampant jumping, boozing and dancing was intensified by the seven of them and their equipment having to all fit together on the Bull & Gate's relatively small stage. There was always activity absolutely everywhere all the time.
All of this excess noise and excess excess was made possible by the lead guitar being levelled sharp and strong above all the other instruments so that no matter what noise the rest of the band was making with their growling/jumping/screaming/fret-bashing/mega-drumfest/screaming you could always pick out a strong tune. It had the effect of fun, bassy chaos with a guiding light above it. Very easy to dance to.
The lead singer/guitarist was the only one who wasn't jumping everywhere all over the stage all the time, but he made up for it in rock-stakes by wearing a sparkling kaftan. And being a bit ginger.
A particular highlight of their show was a cover of the theme song to Doctor Who, with a thumping bass line in place of the rhythmic strings and the lead singer replacing the theremin part with his own falsetto voice. Hysterically funny and also really catchy. There might have been lyrics, and they may or may not have been about Doctor Who, I don't know.
All in all, Dingus Khan were a joy to stumble across on an evening that could have quickly gone south. With a commitment to putting on a rock showand enjoying themselves that is at least equal to their commitment to playing catchy rock music, they've built a strong core of dedicated followers and are definitely a band that should be seen live. Their mood is infectious. If you live in London, like music, and want a wild night my advice is this: go along and get swept up.
Dingus Khan on myspace. (Ha ha, myspace… Oh I suppose it is okay for bands to use myspace still…)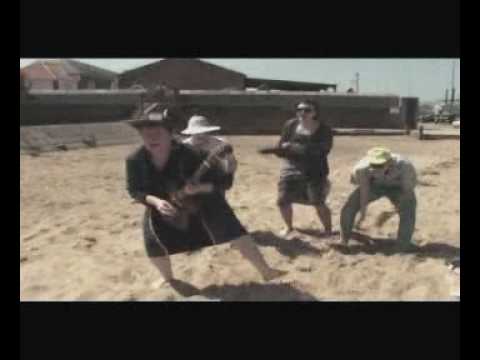 Tweet
6 people are diggin' this.